The new external speaker with built-in microphone for the TA74 family
Does your Carephone offer sufficient coverage for your large property?
TeleAlarm has the solution
Perhaps your Carephone is in the living room, but the bedroom is on the first floor. Does this mean that, in the event of an emergency at night, you wouldn't be able to communicate properly with the alarm-receiving centre?
TeleAlarm now offers a new product to help you – because this problem potentially affects everyone in a large, multi-room property. The TA70 Audio Extender, an external additional loudspeaker with integrated microphone, ensures a secure voice connection in the event of an alarm.
New: External speaker and microphone for TA74 family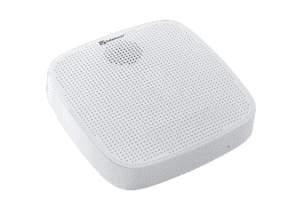 The newly developed TA70 Audio Extender is a loudspeaker with a microphone for additional voice transmission in combination with your TA74 Carephone. The new device had been designed to match the style of its siblings. It is also extremely easy to install, easy to clean, and above all provides first-class audio quality. An excellent addition to the TA74 family for all those who want extra peace of mind!
Interested?
You can find information about many other advantages of this newcomer to the TA74 range, as well as in-depth technical details on the TA70 Audio Extender product page.
If you have any questions, please do not hesitate to contact your sales representative.