TeleAlarm Europe GmbH has handed over a donation of 500 euros to Naturschutzbund Deutschland (NABU) – Landesverband Sachsen e.V. (Nature and Biodiversity Conservation Union of Germany). The amount was collected during a competition set up by TeleAlarm at the Altenpflege fair in Hanover. TeleAlarm committed itself to a donation 0.50 euros per participant.
Dr. Arnd Karden hands over donation cheque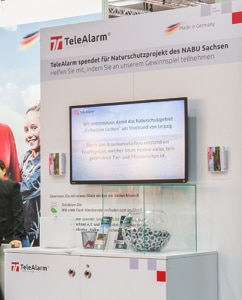 Almost 700 participants took part in the raffle during the fair. TeleAlarm rounded the resulting amount up to 500 euros. In the competition, participants had to estimate how many hand-held radio transmitters the company's employees had collected in a glass at their stand.
With the donation, which was handed over by Dr. Arnd Karden to Philipp Steuer of NABU Saxony on Thursday 27 September, the company is supporting the Kulkwitzer Lachen nature reserve on the outskirts of Leipzig. In the course of recultivation, a wetland was created in the former lignite mining area, which is now home to many endangered animal and plant species. NABU Saxony is pleased about the donation, with which the successful work can be continued.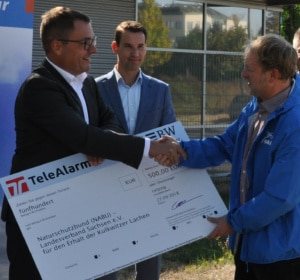 Team leader Michael Hendricks and sales manager Jurgen van Helvoort provided support during the handover. Mr. Jörg Friedrich, Managing Director of Leesys and responsible for operational processes, including compliance with quality and environmental guidelines, was also pleased with the successful support.
"We are very pleased that TeleAlarm is supporting the work of NABU with a donation and would like to express our sincere thanks for this. Specifically, we will use the funds for the maintenance and preservation of the Kulkwitzer Lachen nature reserve. There, our robust Highland cattle, used as 'living lawn mowers', ensure that the valuable meadows are preserved and do not become overgrown."
Philipp Steuer, project employee at NABU Saxony
Since 2003, NABU – LV Sachsen has been committed, among other things, to grazing the area with Scottish Highland cattle and rare-breed "Leineschaf" sheep. NABU has thus contributed ensuring that this particular sheep species is no longer threatened with extinction.
Sustainable production and climate protection at TeleAlarm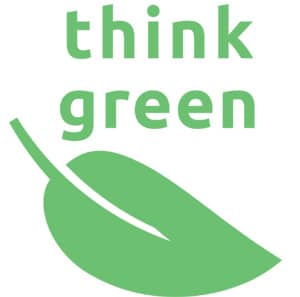 For TeleAlarm, nature and environmental protection not only play an important role at the leading trade fair for the care industry, but also in terms of production. Using the commitment 'We develop and manufacture our products under sustainable and environmentally conscious conditions', TeleAlarm has taken up the cause of sustainable production. The company has developed its own 'think green' logo for this purpose and at the same time meets various environmental and climate protection standards. These include:
• Quality management in accordance with ISO 9001:2008 and ISO/TS 16949:2009 for the development and production of electronic components and appliances of electronic security and telecommunications systems
• Environmental management in accordance with ISO 14001:2004 through conscientious and careful treatment of resources
• Climate protection certificate
• Targeted reduction of greenhouse gas emissions and other environmental effects and verifiable reductions in energy costs in accordance with ISO 50001:2011
• Compliance with and continuous improvement of information security standards in accordance with ISO/IEC 27001:2013
Cover photo (from left): Dr. Arnd Karden, Jurgen van Helvoort, Philipp Steuer (NABU), Michael Hendricks and Jörg Friedrich (Leesys).