In order to be able to offer you the best service with the new TeleAlarm Cloud Services, we will carry out an update on December 6th starting from 4.00 p.m. (GMT)/5.00 p.m. (CET). During this time, the TeleAlarm Cloud Services will not be available for a few hours.
These improvement measures will make new functions available to you.
Update from the TeleAlarm Cloud Services
New features for the free TeleAlarm Cloud Services:
Units monitoring via a dashboard*
Multiple devices creation – mass upload
Smart warning to inform technicians of the availability of firmware update
as well as
Detailed history to check "who changed what, when"
Extended filtering and export
Schedule reading of devices*
Immediate wireless transmitter registration when using the "detect" button (instantly saved into the device)
Firmware changelog, including firmware download
Cloud Services changelog
Location names in BS8521 protocol
* Limited use of functions when connected via PSTN. We recommend a device connection via IP.
Extension of TeleAlarm Cloud Services for Organizations (Paid Subscription Features)
In order to facilitate the handling of a large number of devices, we offer you an extension of the TeleAlarm Cloud Service.
New features in the extension of the TeleAlarm Cloud Services: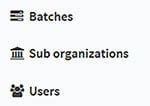 Batch management (programming and firmware)*
Batch management allows the Cloud Services user to change parameters in multiple devices quickly and easily as a group, rather than individually. For example, if an alarm line telephone number or IP address needs to be changed, the user can configure the new value and confirm which TA devices need to be modified. Once set, the TA devices will automatically update with the new information when they communicate with the Cloud Services server. The firmware can also be upgraded on multiple devices, providing a huge time-saving exercise when a firmware update is released by TeleAlarm.
Sub-organizations management
Sub-organizations management allows the allocation of TA devices into sub-groups that can be accessed by users with the applicable access rights. If a large organization has TA devices allocated to certain areas or groups, the user only has access to their sub-group's devices and not the whole database of TA devices. This allows for better security and ease of TA unit management for large-installation authorities/companies.
Access rights management allows the authority/group administrator of the organization to assign access rights to its users. The newly assigned user will only have access to the configuration criteria they are specifically allowed to view and modify, providing greater security and ease of use for the user.
Would you like to take advantage of the extension of the TeleAlarm Cloud Service? Please contact our field sales team for more information.