Nursing aspects considered. Named after a sainted pastorate of 1047, the 50-year-old residential and nursing care center Wiborada was completely renovated between 2012 and 2015. For the necessary calling system, TeleAlarm was used.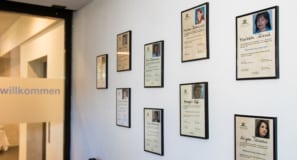 As early as in 1958, sisters of the apostolic community of the Pallotines built a nursing home at the premises, which was initially reserved for women only. After a turbulent period of change, the home was converted into a foundation in 2011 and the renovation could be initiated. Today the immensely friendly and welcoming living and care center has 55 rooms, some of which can accommodate up to two persons. A closed dementia ward with its own garden is also part of it just like several other modern facilities, including a so-called Snoezelen room that has an excellent soothing effect. In Wiborada, currently around 75 people are employed.

TeleAlarm convinces. Several quotations were received, says CEO Thomas Günter. «That of TeleAlarm clearly seemed to be the best and most reliable. Alfred Kuhn from the technical support team introduced and explained everything to us, considering all aspects ranging from the technical side to the financial and the nursing sides. In addition, he was always available for us. This convinced us.» A simple radio system was installed, which is compatible with the existing telephone system.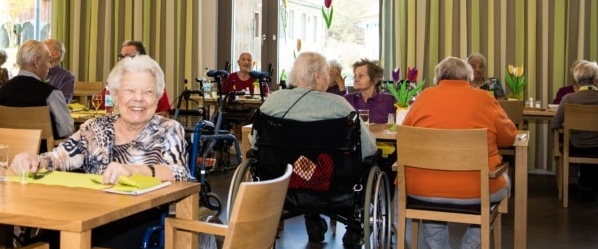 Easy handling. An important aspect was that the new system is also easy to operate for the nursing staff. All outputs of the building are connected, including an immobilising system in the immediate area, which has an emergency call feature and fixed alarms, for example, in the showers. All messages reach the target phone with information specifying the location: On the display, the current whereabouts of the concerned resident appear next to the room number. Technical alarms are sent to the PC of the Technical Director. And the immobilising system in the dementia ward is configured such that visitors can go out even without staff with a simple trick.
Precise timing. «Our goal was that at noon time on the day of shifting to the new building, everything worked,» says Andreas Inauen, Head of  Technology at Wiborada. «It worked excellent, thanks to the good communication between technicians and also with me.» For two days, the two systems worked parallel to each other, and after that, the old system was switched off. The transition was smooth. «An additional challenge was that the architects preferred not to see the installations,» he adds, laughing. «In fact, much
remains hidden now, such as the loops which have been introduced into the concrete in the surroundings. The are needed because many of our residents have a great urge to move and sometimes just walk away,» says Thomas Günter, «and in this way, we do not have to carry out a large-scale search for them because we know where they have left the premises.»

Price/Performance. TeleAlarm is not a cheaper service provider, Andreas Inauen continues. «But they were not the most expensive either, and secondly, the purchase price is not what matters.» What matters more is the quality of the technology and especially the support services. «The cooperation is really great and you can feel the passion at TeleAlarm. There are no sellers, but tech-savvy people who can also listen.» Also, there was a small warranty claim: This was handled without further formalities.» He largely appreciates it that he could call his point of contact at TeleAlarm directly at any time. «He is basically available 24 hours a day. If not, his mobile is redirected to another competent professional.» Also extensions are possible at any time. He could add a new station in a minute, thanks to good documentation. «This is important, because everything is still not ready at the work environment. The garden of the dementia ward  or our memorial walk that leads around the premises.»