6 June 2018 marked the third time that TeleAlarm has taken part in the Leipzig company race. Five employees took on the 5km challenge: trainee Tim Blohm and sales representatives Dirk Kaldewei (Sales Germany), Richard Bailey and Chris Stuart (Sales UK) and Fredy Kuhn (Sales Switzerland). This meant that the TeleAlarm contingent was fewer than in last year's race, as a number of other runners unfortunately had to drop out due to injury.
A strong team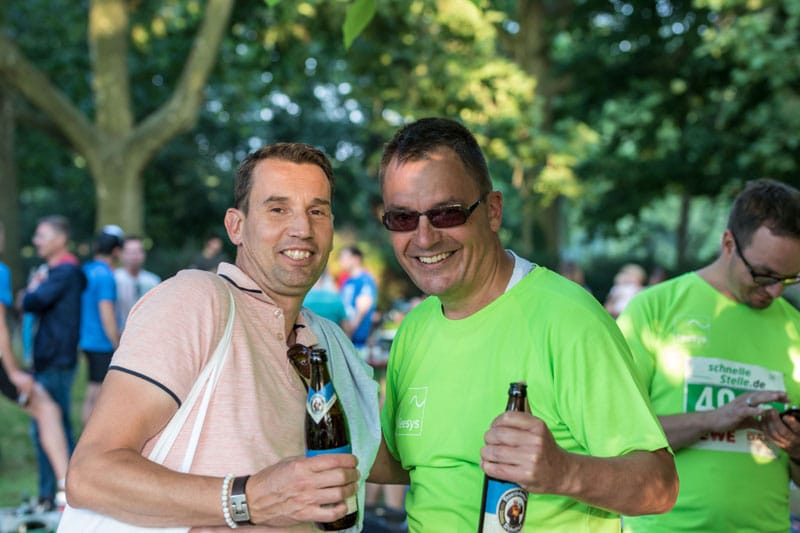 But TeleAlarm's non-runners were also there. They cheered loudly together, enjoyed the summer sun and of course chatted and socialised away from their desks. For TeleAlarm, the company run was once again an item on the agenda of the international sales meeting (ISM) this year. The annual sports event is an excellent opportunity to strengthen the company's "community" feeling, along with the employees of parent company Leesys. They met together before and after the race in the Palmgarten at the pavilion, which was a focal meeting point during the event. In all likelihood we will be part of it again in 2019 – together.
Healthy & sociable
In fact, the idea behind the Leipzig company race is this very concept. The focus of the event is on health and sociability – participation is important, not performance – and this has been the case since 2008. Due to construction work there was a new route this year: the starting point was the small fair at Cottaweg, from which it led through Altlindenau and back to Cottaweg. Around 18,000 runners conquered the course and no fewer than 900 companies were represented. After the run a live band, the award ceremonies and a cheerful closing ceremony were waiting for the participants.