"iCall" is the new product in the comprehensive product portfolio of TeleAlarm Europe GmbH from Leipzig. Together with its partner, indigo care from Belgium, TeleAlarm has for the first time presented the new system at a customer event. The advantages of the system are unparalleled: As the first IP NurseCall system, it offers the complete integration of all the wireless call components of the long-time tried and tested and widely used NurseCall systems of TeleAlarm. So, for example, even already installed systems can be cost-effectively expanded at any time, even with patient wandering systems for dementia sufferers. With this, TeleAlarm, in cooperation with indigo care, has successfully taken an important step towards complete solutions in the healthcare sector.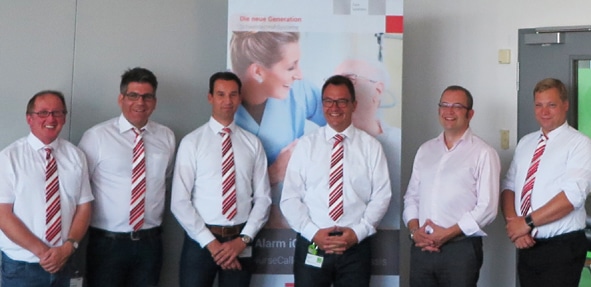 Many customers from all over Germany accepted our invitation to Leipzig and experienced a special customer event. Above all, in addition to the welcoming addresses by Dr. Arnd Karden (CEO) and Jurgen van Helvoort (Head of Sales), the presentation of the iCall system by Jan A. Beckers from indigo care took centre stage. At the end of the day all visitors took advantage of the opportunity to see for themselves the production of the TeleAlarm products with a guided tour of the production facilities of Leesys – Leipzig Electronic Systems GmbH.

iCall – A Brief Introduction:
With iCall, TeleAlarm has introduced a new, fully wired call system in accordance with VDE to its product portfolio. Integrated in it are the proven call activators. Through this combination the system is extremely flexible. The development of the new IP call receiver enables the use not only of wired but also of wireless call activators in establishments. Through the combination of IP technology and a local bus, any desired distances can be covered. In addition, there is no longer any need for servers, controllers or external hardware. All devices can be individually and remotely programmed via the browser. Thanks to the flexibility of the cabling, the system lends itself to renewals and refurbishments. The simple installation and maintenance is reflected in the competitive price.