On 21 June, the Commerzbank Company Race took place for the tenth time. Roughly 16,200 runners kicked the event off at Leipzig's Cottaweg. Their mission: Running five kilometres in as short of a time as possible. TeleAlarm Europe GmbH took part as well. The Flying Fufis – the name of the team – participated in the Leipzig Company Race for the second time, looking good while doing it. The team took 524th place out of 16,000 participants. "TeleAlarm is already looking forward to next year", Dirk Kaldewei from the sales department noted.
Visitors from Switzerland and England
On 21 June, nine athletic colleagues put their running shoes on. Alongside Dirk Kaldewei, Natalja Uhlmann, Fredy Kuhn, Dörte Martischewsky, Tim Blohm, Richard Bailey, Jurgen van Helvoort, Ruthger Steenbeek and Chris Stuart were also on the starting line.
Runners came from as far as Switzerland and the United Kingdom, including Alfred Kuhn, who commented after the race: "Beautiful weather, great atmosphere, a varied track! I'll gladly take part again next year". The company by the name of Leesys, which TeleAlarm has been a part of since 2015, was also at the Company Race with 40 participants. Both companies celebrated the successfully completed race together.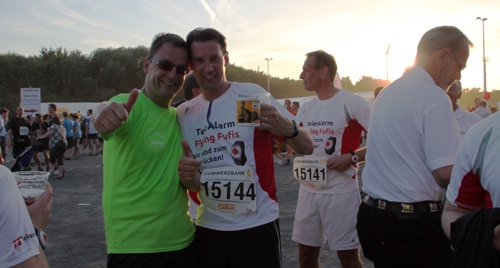 Colourful Costumes and High Spirits
Exercise and fun – this perfect symbiosis is at the top of the agenda during the annual Leipzig Company Race. Not only the fastest runners, teams, secretaries, trainees and managers are recognised, but also the most extravagant costumes. This year, flamingos, Smurfs, strawberries and other funny figures were present.
On top of that, the party band Urangatang provided musical support. On the fields surrounding the Cottaweg, runners and spectators of this resoundingly sucessful event alike enjoyed the first evening of summer with grilling and cold drinks.