The TeleAlarm team is on duty every day with the mission to promote people's health and safety –that's what shapes us. So it's not surprising that initiatives from our own ranks are always coming to do more. Be it in the form of fundraising campaigns or by participating in sponsoring events. In November the start of "Laufen geht immer" was on the agenda, a charity run to support the association "Elternhilfe krebskranker Kinder Leipzig e.V.".
"Running always goes" – especially for a good cause
With the aim of supporting the funding of sports therapies for children suffering from cancer this year, pure fitness, in cooperation with Bear-Service, has once again organised the charity run "Laufen geht immer" in Leipzig. The focus of the event is on sports: the donations are collected through sporting activity for sporting activity – last year, for example, for the wheelchair teams of the sports rehabilitation centre RSL e.V.
And the initiative has been a success: while there were 433 participants in 2017, over 900 runners competed in 2018. Among them was Sarah Piehlig from the TeleAlarm back office.
Back office employee Sarah Piehlig at the start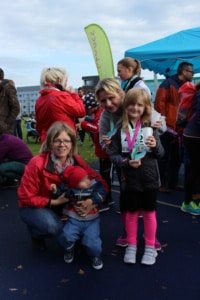 On behalf of Team TeleAlarm, Sarah Piehlig from the back office's order and returns processing department, competed in the charity run on the 2km route. With a finishing time of 10:58 minutes she achieved a very creditable 6th place among the female participants. Even her daughter took part in the children's run. TeleAlarm paid Sarah's entry fee, which was included in the company's donation.
"What can I say? Running is always possible", says Sarah Piehlig with a wink, "especially for a good cause. As an amateur athlete, however, I was a little afraid of running to begin with, but with this incredibly great support from my colleagues and the great organisation on site, you were already totally exhilarated during the warm-up."
Many other TeleAlarm colleagues were also in attendance, as well as their children, to clap, drum and cheer on the track with a lot of energy and in bright sunshine. And the effort of all was worth it – more than €5,500 in donations were generated!
More photos of the event can be found here.