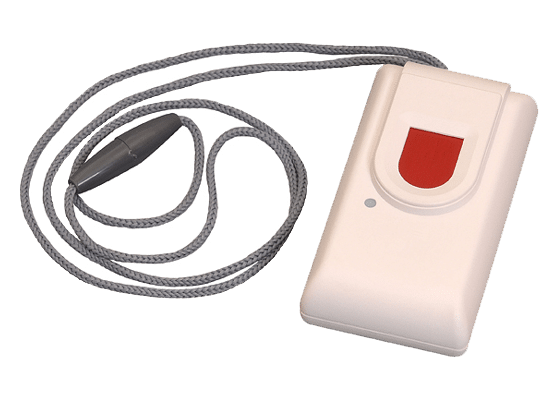 S35 Pendant Transmitter
The combination of the Pendant Transmitter and Carephone makes it possible for you to get help quickly and easily. The pendant's sturdy, splashproof housing allows usage at all times and in every room of your home. In addition to the ease of operation, the S35 Pendant Transmitter offers special safety features such as automatic low-battery monitoring and a daily radio link message. Cases in which the transmitter can no longer independently activate have also been taken into consideration with radio transmission monitoring, to provide another level of safety.
Alarm activation in two ways with this pendant transmitter
The compact pendant transmitter is particularly user-friendly because the alarm can be activated both by pressing the red button and by pulling the cord. This makes operation even easier. A help call is then sent to the Carephone which, in turn, forwards the call to the 24-hour control centre. It is possible to attach the S35 Pendant Transmitter to your clothing or to wear it around your neck on a cord. This ensures that the Pendant Transmitter will allow the quick and easy transfer of an alarm at all times and therefore provides the perfect solution for use at home in combination with the Carephone.
Comprehensive security for you
The S35 Pendant Transmitter has a splash-proof housing and is thereby watertight according to rating IP64. This means that it can be used without any problem in bathrooms or kitchens. The S35 features an automatic daily radio link message and automatic battery monitoring. With this, you can be confident that your S35 Pendant Transmitter is ready to use at all times and you can feel at ease in your home.
Specifications
Documentation
Key information for the S35 Pendant Transmitter at a glance:
Dimensions (H x W x D)

75 x 40 x 25 mm

Weight

40 g

Frequency

869.2125 MHz

Protection class

IP 64

Power supply

3V lithium battery CR2032

Consumption

Transmission: < 25 mA
Idle mode: < 2 µA

Battery lifetime

3 years, under following conditions:
– 3 alarms transmissions without repetition per day and 1 daily test transmission (incl. battery status)

Battery alarm

at approx. 20 % remaining

Automatic battery test

daily check and at every alarm

Permissible temperature

0 °C to 55 °C

Stability (0 to +55 °C)

<± 2 KHz

Modulation

FSK

Antenna

Integrated

Radiated power

2 mW

Transmission time

3 x 700 ms

Pause between transmissions

800 ms

Minimum range in free field

250 m