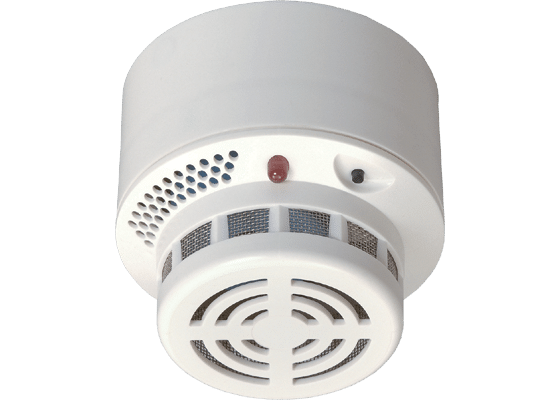 This gas detector detects the presence of gases such as propane, and also activates an alarm when a level of 20% below the explosion threshold is reached, so that a quick reaction is possible. Because gases are usually colourless and odourless, it is reasonable to be concerned about gas explosions. If, for example, gas escapes due to a leak, a gas/air mixture forms for which even the smallest sparks are sufficient to result in an explosion. Therefore it is important to ensure additional safety by using a gas detector. In the event of an alarm, you will hear a shrill acoustic signal and a red LED will be illuminated on the device.
Wireless gas detector for maximum security
The gas detector recognises combustible gas in the ambient air quickly and before a concentration results, which can potentially cause an explosion or hazard. This occurs via the semiconductor principle, in which – in the case of gases which meet detection elements – the electrical resistance changes depending on the concentration. The alarm signal is activated after an electronic evaluation of the changes. In addition to the optical and acoustic signal, the alarm is retransmitted to a Carephone, which, in turn, forwards it to the 24-hour control centre. Following this alarm, assistance measures can be taken without delay. In order to provide yourself with additional protection, you should also install a wireless carbon monoxide detector. Both these detectors in combination offer optimal protection against hazardous gases.
Automatic radio link monitoring ensures reliability
In order for you to always know that your gas detector is functioning correctly, radio link monitoring is performed every day. For example, failed sensors (due to which the functioning of the gas detector could be impeded) can be detected in a timely manner and then replaced, saving any incurred costs and giving you peace of mind. In the event of soiling or faults, the LED display on the gas detector device is illuminated and a brief signal tone sounds so that steps can be taken to remedy this.
Specifications
Documentation
Key information for the Wireless Gas Detector a glance:
| | |
| --- | --- |
| Power supply | 230/12 V power adapter |
| Power consumption in standby | typ. 180 μA |
| Power consumption during an alarm | typ. 230 mA |
| Operating temperature | 0 °C to 55 °C, in a dry and heated room |
| Storage temperature | -20 °C to 60 °C |
| Relative humidity | max. 90% |
| Acoustical indications | siren, typ. 85 dB (1 m distance) |
| Optical indications | LED |
| Dimensions (H x W) | 80 x 80 mm |
| Weight | approx. 150 g |
| Material and color | white plastic |