Wireless Contact Detector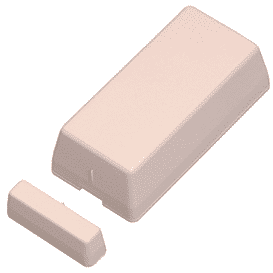 With this contact detector, windows and doors can be monitored at all times with the internal magnetic contacts to protect you from break-ins. Tamper-proof external contacts for this can include, for example, pressure mats, from which messages or alarms can be wirelessly transferred to your Carephone. As an additional safety measure, the magnetic contact also has a tear-off contact, a tamper-proof contact and a resistor-monitored input with which the monitoring of external devices is possible.
Functional checks are included
In order for your contact detector to always remain ready for operation, a daily test message – which provides information on the status of the contacts and sensors and the battery charge status – is sent to the 24-hour control centre. After these test messages and upon activation of the contact detector, you will receive the message 'Battery Empty' as a low-battery alert. After this message occurs, the batteries should be replaced within one week.
Specifications
Documentation
Key information for the Wireless Contact Detector at a glance:
| | |
| --- | --- |
| Dimensions (H x W x D) | 85 x 40 x 40 mm |
| Weight | 55 g |
| Frequency | 869.2125 MHz |
| Power supply | 3V lithium battery CR2032 |
| Battery life | > 3 years |
| Battery alarm | at approx. 20 % remaining |
| Automatic battery test | daily check and at every alarm |
| Operating Temperature | 0 °C to 55 °C |
| Frequency stability | < ± 2 KHz |
| Modulation | FSK (Frequency shifted key) |
| Antenna | Integrated |
| Transmission power | – 3 dBm (0.5 mW) (Class B transmission power complies with EN300220) |
| Minimum range in free field | 250 m |