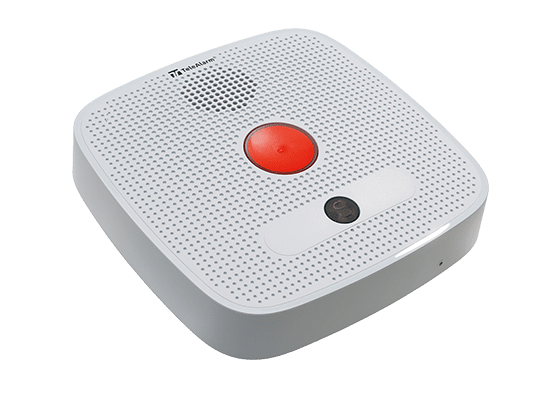 TA72
The TA72 offers multiple innovations that help you manage your telecare service easily, efficiently and economically. It can communicate through IP, in addition to analogue landline telephony. Two "plug and play" programming ways are now available, one through the TeleAlarm® Cloud Services platform and the other one through the Configuration Manager software.
The TA72 offers the following advantages:
• Fast and easy programming via intuitive cloud programming
• Multi-protocol
• Best in class audio quality
• Design is centered on triggering alarms and generating communication
• Best of both communication lines with analogue and IP interface
• Always up to date via software remote updates
• Easy care – easy to clean and waterproof according to IP32
• 100% high-quality ABS material in premium white
TeleAlarm Cloud Services
Pre-programming via Cloud Services enables the simple installation of the TA72. On site, only the connection of the equipment, its activation by an installer and a test alarm call are necessary. Any later reprogramming and addition of further Tx-transmitters is carried out via Cloud Services.
Data
Documentation
Software
Key information for the TA72 at glance:
Emergency call protocols

Multi-protocol (RB2000, RB2000E, TTnew+, CPC, BS8521, RBIP, telephone, SCAIP)

Programming possibilities

Remote programming via TeleAlarm Cloud Services

Configuration Manager

Remote programming from monitoring centre

Service mode

Max. number of wireless transmitters & detectors
10
Programmable call destinations
10 call destinations: freely assignable to any type of trigger group
Available languages
Dutch, English, French, German, Spanish, and tone only
Voice message
Recordable
Volume settings
8 Levels
Connectivity

– Phone line
– External phone
– IP/Ethernet connection (10 / 100 MB/s)

Receiver
Complies with class 1 as specified in EN 300220-1 V2.4.1
Frequency
869.2125 MHz
Environmental class
Class 1
Protection class
TA72: IP32 (IP30 wall mounting)
Wireless transmitter: IP67
Switched-mode power supply

Adapter 230V AC / 0.18A input, 6V DC / 1A output

Backup battery
3.6 V NiMH battery, 2 Ah
Battery lifetime

Minimum 48 hours with one 30 minute call

Value at date of purchase with a fully charged battery

Current consumption in standby mode

Approx. 135 mA with power supply. Approx. 30 mA on battery

Communication connections
PSTN, Ethernet/VoIP
Dimensions (H x W x D)
50 x 191 x 191 mm
Weight
Approximately 0.6 kg
Permissible temperature (environment / storage)
+5 °C to +40 °C / -20 °C to +60 °C
Maximum relative humidity
93 %