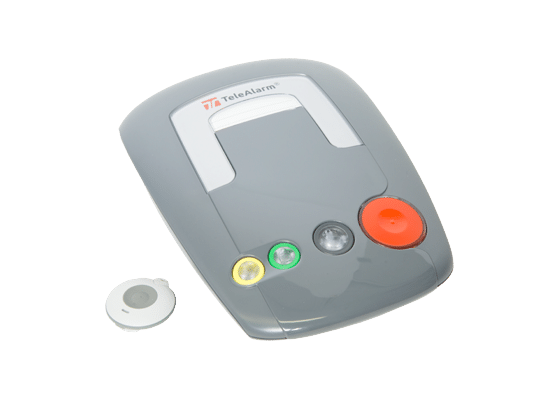 The Carephone 62 is appealing due to its special technical functions, flexible operation and elegant design. The modernity of the design is continued in the functionality of the Carephone 62, which corresponds to IP32, protecting the device from damage due to environmental effects such as dust or dirt. You can even replace the top covers if necessary. The Carephone 62 is designed as a table or wall-mounted device. In addition to your analogue phone network, the Carephone 62 can also be used in combination with a broadband connection (Voice over IP), allowing the set up to work even without a landline phone connection.
The Carephone 62 is individually programmable
Easy programming of your device is possible through a micro SD card, an integrated keyboard and by using the accompanying programming software. This also allows you to evaluate the equipment's activity log.
Easy operation in different languages
Language-prompted operation is another advantage of the Carephone 62. Five European languages are already pre-loaded onto the device. Other languages can be added via the micro SD card.
You can also add on different solutions, depending on your individual security needs. For instance, wireless peripheral devices – such as a gas or smoke detector or a wireless flood detector – give you and your family members the best possible protection for everyday life. Moreover, to activate an alarm next to the Tx Wristband Transmitter, you can also use a Fall Detector which is compatible with the Carephone. In this way, you can retain independence at home.
Specifications
Documentation
Software
Key information for the Carephone a glance:
Emergency call protocols enabled
RB2000E, ANT, CPC, BS8521, TTnew, RBIP
Programming possibilities
– integrated keyboard
– microSD card
– remote (monitoring centre)
– configuration manager
programming is protected by PIN code
Inputs and outputs
– 1 input & 1 relay output (max. 30 VDC)
– microSD port
– serial connection
– GSM connection (optional)
– external loudspeaker and microphone
User guidance
Voice output and LED indication
Max. number of wireless transmitters & detectors
20
Programmable call numbers
10 call numbers with up to 22 digits, freely assignable to any type of trigger group
Available languages
German, Dutch, French, English, Spanish, and tone only
Voice message
Recordable
Volume settings
8 levels
Dial mode
Tone dial
Radio receiver
Class 1
Frequency
869.2125 MHz
Environmental class
Class 1
Protection class
IP32 (IP30 wall mounting)
IP67 (wireless transmitter)
Switched-mode power supply
Adapter 230 V primary, 7.5 V secondary
Battery backup
4.8 V NiMH battery, 1.6 Ah
Battery lifetime
– typically 130 hours, minimum 120 hours with one 30 minute call
– with IP module: typically 40 hours, minimum 30 hours with one 30 minute call
– with GSM module: typically 48 hours, min. 30 hours with one 30 minute call
Values at date of purchase and a fully charged battery
Current consumption
approx. 85 mA in standby, power supply
approx. 10 mA in standby on battery
Phone line connection
PSTN, Ethernet/VoIP, GSM/GPRS
Dimensions (H x W x D)
55 x 160 x 230 mm
Weight
approx. 0.7 kg
Permissible temperature (environment/storage)
+5 °C to +40 °C / -20 °C to +60 °C
Relative humidity
85%
| | | | | |
| --- | --- | --- | --- | --- |
| Documents for download: | | | | |
| Data Sheet of the Carephone 62 | DE | EN | FR | NL |
| User Manual of the Carephone 62 | DE | EN | FR | NL |
| Data Sheet of the GSM Module | DE | EN | FR | NL |
| Installer Manual of the GSM Module | MULTI | | | |
| Quick Start Guide of the Carephone 62 | MULTI | | | |
| Quick Programming Guide of the Carephone 62 | MULTI | | | |
| Commercial Brochure | DE | EN | FR | NL |
| USB interface for HTS6x EC Declaration of Conformity | | EN | | |
| Installation addendum GSM external antenna | DE | EN | FR | NL |
| Installation addendum GSM internal antenna | DE | EN | FR | NL |
| Carephone 62 EC Declaration of Conformity | EN | | | |