Wireless Smoke Detector – RM-LES900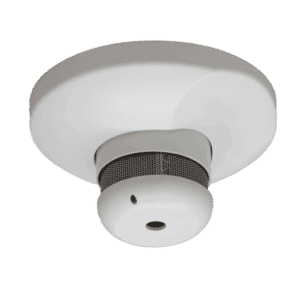 In the event of a fire, during the smoke development phase, the smoke detector sounds an alarm. It is particularly suitable for the early detection of fires because it detects light smoke before the flames and heat appear. In this case, the smoke detector emits a shrill alarm tone which continues until it is deactivated. At the same time, the wireless module transmits the alarm to the Carephone, which in turn transmits it via the phone network to the 24-hour control centre. This ensures that the proper fire-fighting measures are taken and people who are in danger can be brought to safety. In addition to the smoke detector, you can use a Wireless Temperature Detector.
Function
The optical smoke detector functions via the scattered light principle. In normal cases, no light falls on the photo diode. Instead, scattered light only occurs as soon as smoke particles penetrate into the integrated measurement chamber. In this case, the photo diode detects that the light beam of smoke particles is reflected. Here if a certain value is exceeded, the alarm is activated and this is forwarded to the Carephone. Automatic battery monitoring is also integrated into the smoke detector, which signals low battery levels and forwards a message to the receiver.
Installation and mounting
Because the smoke detector uses wireless technology, cabling is not necessary. All that is required is to mount the detector base with two screws (included in delivery) to the ceiling. Here it is important that the smoke detector is mounted within range of the Carephone so that the radio signal can be received. After installation and programming, the test sensor attached to the detector checks for the proper functioning of the alarm on site and the alarm transfer via the Carephone. You can also use the test sensor to link the smoke detector to a Carephone.
Advantages at a glance:
• "Maintenance-free" with only one battery change
• Early smoke detection thanks to the scattered light principle
• Connection to the carephone via the radio module
• Easy configuration and setup
• Inconspicuous due to unique design
• Environmentally friendly due to less battery and plastic waste
Specifications
Documentation
Funk-Rauchmelder – RM-LES900
Battery type

Alarm head:   CR17345-Duracell or CR123A Huiderui
internal, non-replaceable
Radio module: CR 1/2AA-Varta 3V Lithium

Battery life
min. 8 years
Operating temperature
+4°C to 38°C
Storage temperature
-20°C to +60°C
Relative humidity
max. 90%
Acoustic signals
Siren, normally 85dB (at 1m distance)
Optical signals
LED
Monitored area
40m²
Dimensions (HxØ)
50mm x 87mm
Weight
ca. 97g
Material and colour
White plastic
Wireless Smoke Detector
Detection principle
Scattered light principle
Duration of alarm
Inbuilt alarm: continues until the alarm criterion (smoke) dissipates.
<style="font-family: inherit; font-size: inherit;">One radio signal per fire event
Function test
Trigger alarm at alarm head
Optical signal
Red LED blinks (indicates with no acoustic signal that the device is ready to operate)
<style="font-family: inherit; font-size: inherit;"></>
Acoustic signal
 Loud, pulsating acoustic signal, c. 85dB(A)
Radio Module
Transmission frequenzy
869.2125 MHz
Bandwidth
25 kHz
Modulation type
FSK (frequency shift keying)
Frequency deviation
±3 kHz
Output power
0.5mW
Free field range
c. 200 m