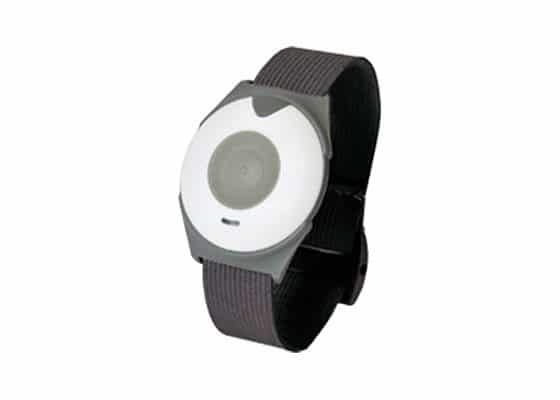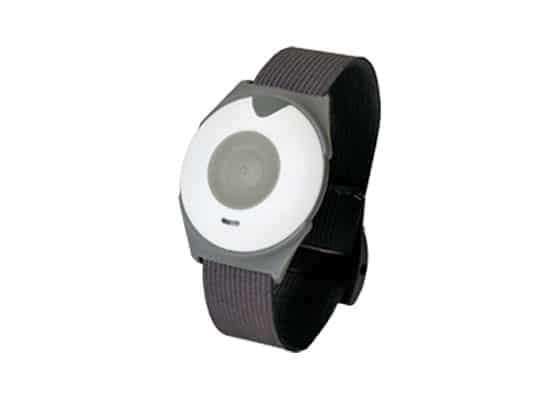 Tx Transmitter
With the Tx Transmitter, it is possible to activate alarms such as emergency calls with the push of a button and to send them to the corresponding Carephone where they are passed on to a 24-hour control centre. This way, customers can call for help at any time, even if the phone is not in direct proximity or can no longer be operated. A fall detector can also be incorporated if required. The transmitter provides an optical signal for alarm activation with an LED display and is protected from the effects of the elements, such as water and dust, which makes it very sturdy resistant to faults and malfunctions.
Daily function check
The battery service life of this wristband transmitter is five years, assuming one daily alarm transmission and a battery service check as well as radio link monitoring. The automatic radio link and battery monitoring takes place every 20 to 31 hours, depending on the type, and immediately performs both checks of the battery level as well as the functionality of the device. In this way, failed sensors which can cause malfunctions can be detected early and replaced. As a result, costs and expenses can be reduced or prevented. This supplemental security service makes the use of the transmitter even more appealing and secure.
Tx Transmitter with a sturdy housing
The Tx Transmitter is waterproof and dustproof and conforms to protective class IP67. The permissible temperature range is between -10 and +55°C, in which it is considered particularly stable. Due to its special resistance to ambient effects, it is possible to use it in locations such as a kitchen or bathroom, where there is a greater probability that it can come into contact with dirt, dust or liquid. The Tx Transmitter is easy to operate and is a very sturdy companion. You can wear the wristband transmitter on your clothing, around your neck or on your wrist and enjoy your daily routine without any restrictions.
Specifications
Documentation
Key information for the Tx Transmitter a glance:
Dimensions (H x Ø)
11 x 41 mm
Weight
15 g
Frequency
869.2125 MHz
Also available with 469.99 MHz, 456,15 MHz, 433,92 MHz, 433,08 MHz
Protection class
IP 67 water-proof and dust-proof
Power supply
Replaceable lithium battery CR2430
Consumption
Transmission: < 22 mA
Idle mode: < 3 µA
Battery lifetime
5 years, under following conditions:
– 1 alarm transmission per day
Automatic radio link and battery monitoring
Depending on type: every 20 to 31 hours
Permissible temperature
-10 °C to 55 °C
Storage temperature
-20 °C to 80 °C
Stability (-10 °C to 55 °C)
< 2.5 KHz
Modulation
FSK
Antenna
Integrated loop
Radiated power
320 µW
Environmental class
II
Minimum range in free field
300 m