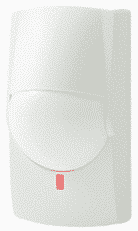 Wireless Motion Detector
The wireless motion sensor WNX-40PI-T (passive infrared detector) is operated in combination with a Carephone TA74 or HTS62. This sensor is used to monitor a room and transmit presence information to the Carephone.
The WNX-40PI-T is installed inside the residence in a room that the person requiring assistance has to pass through when they are at home, e.g. in the hallway. The activity monitor in the Carephone can be reset via the daily button or via a wireless motion sensor. In this instance, the WNX-40PI-T serves as an external daily button for the Carephone. The activity monitoring in the Carephone will only be reset if the sensor detects a movement. Unlike triggering via the daily button, the motion sensor doesn't generate a voice announcement on the Carephone.
Digital quad zone logic
The wireless motion sensor has 78 zones to cover the detection field. More than 4 zones are used to check whether a transmission should be made. This technology improves the accuracy in the detection of people and avoids false detections due to pets.
Temperature compensation
The sensitivity of the motion sensor is automatically increased at high temperatures, especially in places where the temperature varies between 35 – 37°C, close to that of the human body.
Key information for the Wireless Motion Detector at a glance:
Passive infrared detector
Movement in monitoring zone
Dimensions (H x W x D)
115 x 62 x 50 mm
Relative humidity
Up to 95%, non-condensing
Operating temperature
-20 °C to +50 °C
Storage temperature
-40 °C to +60 °C
Frequency
869.2125 MHz
Channel spacing
25 kHz
Modulation type
FSK (Frequency Shift Keying)
Transmission power
– 3 dBm (0.5 mW)
(Class B transmission power conforms to EN300220)
Transmission rate
ISA-WM-869: 1600 Hz
CRS-WM-TA869: 2500 Hz
Installation height
1.5 to 2.4 m
Monitoring zone
12 m x 12 m
Battery
CR123A lithium battery
Battery lifetime
From 4 years to 7 years, depending on the area of installation and number of transmissions
Automatic test signal
Every 24 hours at least
Message "Battery Low"
Daily and every transmission. Following a "Battery Low" message, the battery should be changed within one week.