Radio Fall Detector Vibby OAK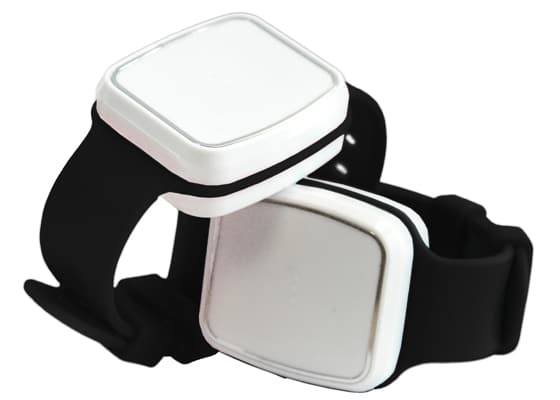 Vibby OAK automatic fall detector: Reliable help in case of emergency
The fall detector is equipped with an emergency call button which is identified by tactile raised dots. The detector enables the automatic triggering of an alarm in the event of a heavy fall.*
The fall detector recognizes a heavy fall and undertakes an analysis of this. After 20 seconds, the Vibby OAK begins to flash and vibrate (also for 20 seconds). Thereby the user is informed that the fall has been recognized. During this time the alarm can still be cancelled. If not cancelled, the alarm is triggered and transmitted to the TeleAlarm Carephone.
In order to cancel an alarm, the user can either stand up within the first 20 seconds or cancel the pre-alarm by covering the Vibby OAK with the hand for 2 seconds. As soon as the vibration stops, the hand can be removed. This ensures a false alarm can be avoided.
The Vibby OAK is more than a fall detector, it's also a radio transmitter linked to a TeleAlarm Carephone. That means an improved safety experience for the user who can trigger an alarm in an emergency.
The Fall Detector enables Optimized Fall Recognition
The fall detector, via a series of sensors and a powerful algorithm, analyses movements, recognizes a heavy fall and triggers an alarm. If a user loses balance and needs help, although no fall has been recognized, he or she can manually trigger an alarm at any time via the emergency call button.
Highly Comfortable to Wear
The fall detector is worn comfortably on the wrist just like a watch and doesn't impede the user's hand movements. The plastic from which the fall detector is made is waterproof, as well as being hypoallergenic. The technical features of the fall detector are also impressive: the battery doesn't need to be charged and the maximum transmission range in a free field is 300 metres. The battery is replaceable and has an up to 2 years battery life.
Simple Configuration
The Vibby OAK is easy to install as it is already pre-configured with the TeleAlarm protocol ready to wear on the wrist. However, it still must be registered into the TeleAlarm Carephone before being used. Detailed operating instructions in four languages are included (German, English, French and Dutch).
The Phases of the Automatic Fall Recognition

* The Vibby OAK is an intelligent, manual alarm system that in some cases ensures an additional measure of protection insofar as the user is not in a position to trigger the alarm themselves.
The Vibby OAK has been developed to recognize heavy / dangerous falls automatically (sudden and quick loss of balance followed by the heavy impact of the body on the ground). A heavy fall means that the wearer remains in a lying position and is not able to get back into an upright position. Not every type of fall can be recognized and interpreted by the technology based on automatic fall recognition.
Specifications
Documentation
Schemata
The most important data for the radio fall detector at a glance:
| | |
| --- | --- |
| Dimensions (H x W x D) | 37 x 33 x 12.7 mm |
| Weightt | |
| Housing | Hypoallergenic plastic |
| Frequency | 869,2125 MHz |
| Protection Class | IP 67 (EN 60529) |
| Transmission Range | 300 m in a free field |
| Voltage Supply | Replaceable lithium battery CR2477, 3V from Sony |
| Battery Service Life | Up to 2 years |
| Automatic Battery Monitoring | Cyclical test every 23 hours |
| Permissible Temperature Range | 5 °C bis 40 °C |
| Cleaning | With soap and water only |