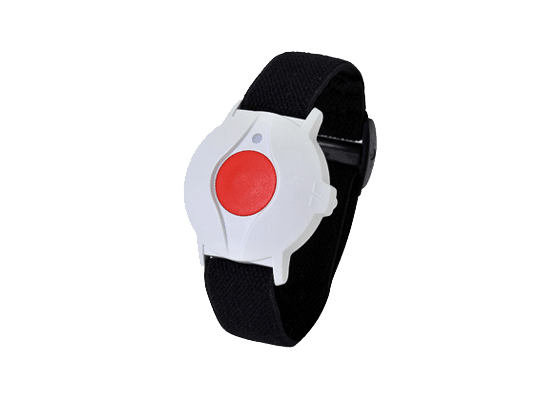 S37 Pendant Transmitter
A user-friendly manual transmitter such as the S37 Pendant Transmitter offers you the reassurance of feeling secure at every location and being able to contact the 24-hour control centre at any time. If the need arises, with the push of button you can transfer an alarm signal wirelessly to your Carephone, and from there pass on the call via the phone line to the call centre. Here a data record is transferred, with which the call centre can identify the user. The range in free space for the S37 is 250m.
A transmitter with a flexible and modern design
Of course you want the transmitter to impede your daily activities as little as possible. You can wear the watertight and light S37 Pendant Transmitter either around your neck with a safe and adjustable cord or on the wrist with a flexible wristband. Alternatively, you can simply attach it to your clothes. The modern and attractive S37 Pendant Transmitter is supplied along with a selection of accessories (cord, wristband and clip), and is available with a black or red button.
Tested security for your well-being
The battery service life of the S37 transmitter is three years; this is assuming three alarm transmissions and one battery status check per day. Automatic battery monitoring takes place every day with each transmitter, offering you additional security. If necessary, the battery can then be replaced quickly and easily, meaning that costs will be lower for you.
Specifications
Documentation
Key information for the S37 Pendant Transmitter at a glance:
Dimensions (H x W x D)

48 x 42 x 13.5 mm

Weight

22 g

Frequency

869.2125 MHz

Protection class

IP 67 (EN 60529)

Power supply

3V lithium battery CR2025

Consumption

Transmission: < 20 mA
Idle mode: < 3 µA

Battery lifetime

3 years, under following conditions:
– 3 alarms transmissions without repetition per day and 1 daily test transmission (incl. battery status)

Battery alarm

at approx. 20 % remaining

Automatic battery test

daily check and at every alarm

Permissible temperature

0 °C to 55 °C

Stability (0 to +55 °C)

< 3 KHz

Modulation

FSK

Antenna

Integrated loop

Radiated power

50 µW

Transmission time

3 x 700 ms

Pause between transmissions

800 ms

Minimum range in free field

250 m