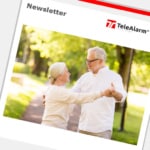 Stay up to date with our newsletter: We inform you regularly (1–2 times a month) about software updates, current offers as well as news and information from the management system.
Subscribe to our newsletter
TeleAlarm Europe GmbH respects your privacy and does not pass your data on to third parties; the use is determined by the data protection guidelines. The data you provide will only be used to send you the newsletter and tailor it to your preferences.
If you do not reply to this message, your data will be deleted.